I'm not trying to be that girl that starts a blog and then goes for days without updating. I have actually been that busy and not able to post.
So lets go ahead and say since it is 4:15pm and I did not get any ones weight this week I am not going to linky up my Weigh In Wednesday. Melissa, please comment in this post with your link so people can see how you did. I did however weigh. I am really sorry it took me this long to post.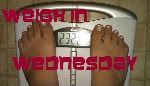 This morning my weight was 230.6. Yeah!!!!! That was another loss this week. I feel a trend, or at least I am hoping for a trend. I knew my workouts were good this week and I was actually thinking I might have a better number than that...but then last night I went to the fair and ate every single thing that I wanted. I only get to do that one night at the fair because it is sooooooo bad for you and I cannot afford to eat Carny food that many nights in a row. Come on a $5 corn dog....really....but it was good!
Actually lets just start with yesterday and give you the entire 2 day update since it has been that long since I posted.
Yesterday started out pretty ordinary. I had a couple of appointments set up and lots of things that just needed doing. I had to run errands but each place closes at particular times this week so you have to work a schedule around them. I had lunch planned and then my meeting with a swimming buddy. Well I was getting ready to go swim when I was informed that we were going to the fair. I am a fan of the fair, have been since I was a child but as I have gotten older and more intense in my weight loss I have not loved the fair as much. The little fat girl inside me wants to eat everything, cotton candy, ice cream, etc. So in an effort to not gain weight during fair week I set aside one night to eat everything I want and then that is it. I am a good little girl the rest of the week.
Well, since I wasn't planning on a trip to the fair I didn't get to eat my pasta dinner that I had planned on. Well missing my pasta dinner before the long run wasn't what I had planned on either. Lets just say whole wheat pasta sticks to you a little bit better than a foot long corn dog and shaved ice.
I was up late at the fair but able to get home in time to get to bed at a decent hour and be able to function at 5:30 this morning. We headed out for our long run....today the goal was 12 miles. Well I am happy to report that I made the entire trip + .33. It was a nice run this morning. It was warm but not hot and being that it takes a good while to run that many miles it sometimes gets a little bit hot. I was excited to get my distance but again towards the end I was just running on empty. We walked a lot of the final mile and I find it hard to count that in my mileage, but my running buddy and Jeff Galloway have both convinced me that if I am on my feet and moving then I count the run and walk breaks. So I am getting over it and counting it all. A total of 12.33 miles, watch out marathon, here I come!
Lets just say that started my Wednesday off right. Then it was hustle to the office, then hustle here and then to there. It was one of those mornings that I kept running and never sat down until after 3pm. I am happy to be here now and feeling pretty crappy about taking this long to get something up here.
I can already feel a little bit of soreness creeping into my joints. On top of what I am sure will be soreness I am trying desperately to get a cold or allergies. I am trying to convince myself that I will not be sick but I am failing miserable (pun intended) at this point. I'm trying to decide if I am going to take the night off from exercising or not. I really don't want to but I also don't want to over do the day either. Ill decided eventually but I just don't know yet.
Hope you guys have had a good couple of days. I know I have been missing you guys. (And the promises) I will do better....even if I am busy I will get some post up!
Blog Hop Time.....
One of my favorites of the week....go check out their stories as well.