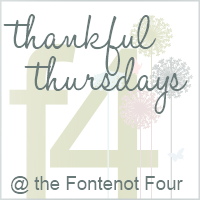 I have several today but it shouldn't be too long...
I'm Thankful...
...that I get to take part in this blog hop this week. I missed last week and spending the time to write down what you are thankful for is very therapeutic.
...that I got to play trivia with my friends this week. It has been way tooooo long. And no, we didn't win, we might have been dead last this week.
...that I no longer have any restrictions on my workouts. Finally!!!! I am not thankful that every inch of my body is sore from the new workouts!
...I finally got Season 3 of Will & Grace, unemployed, what else am I gonna do!?!?!?!?!?!
....that I got to have an M&M cookie today. It was delicious and a nice complement to my shopping trip.
....for my new purse. It might be shallow but it's also cute and I needed a little happy for myself today.
....for 3.5 miles tonight.
....for my new sparkly headband, another one that is really kinda stupid but its sooo cute and it will give the old people at the gym new reasons to talk about me in the morning. I have been missing the pointing and whispering.
...that Thursday is looking like it is going to have a nap!
....that I am almost completely off a medication that was causing me to have hot flashes, which by the way are way better and I am not near as hot as I have been for the last month.
....my buddies at Sonic in the morning. I get to meet them now cause I don't have to leave town so early. I have missed those girls and I have had drinks with them every day for 2 weeks.